When it comes to enhancing your outdoor living space, a paver patio is a fantastic option. It adds elegance, functionality, and value to your property, making it an investment worth your consideration. However, choosing a paver patio installation company in Long Island, New York, can be overwhelming, especially if you're not familiar with the process. The right company will help you achieve your ideal patio, customized to your preferences and budget.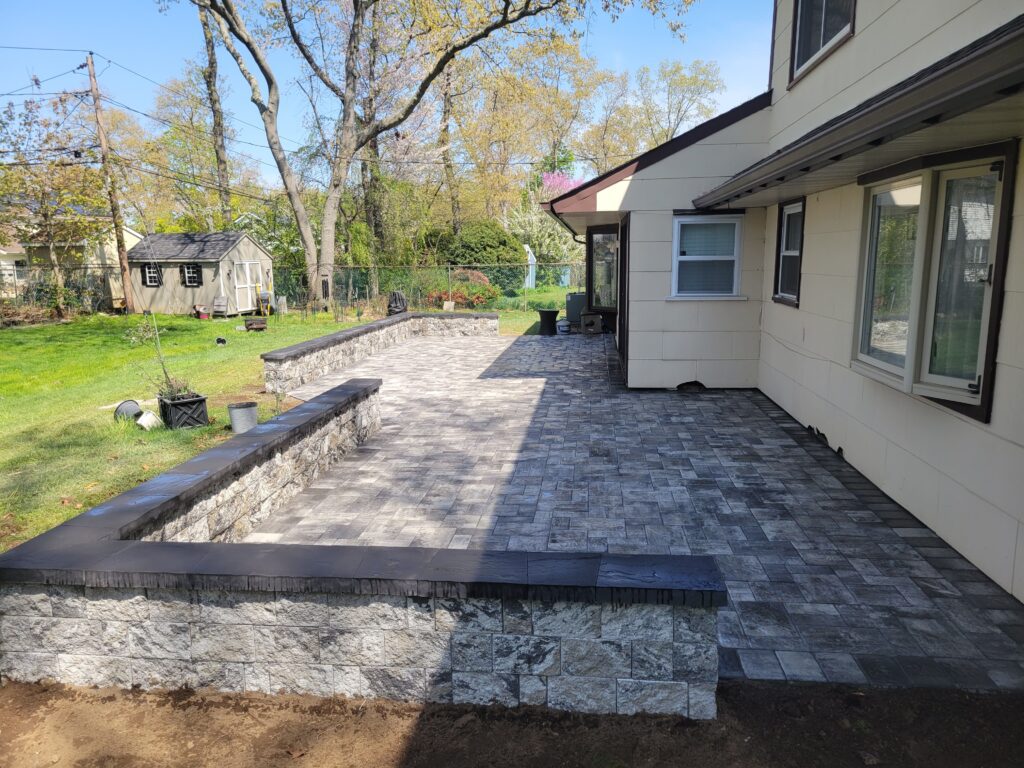 Finding a Paver Patio Installation Contractor in Long Island
Choosing the right contractor for your paver patio installation is crucial in Long Island, New York. With so many options available, it's important to carefully evaluate each contractor and ensure they have the proper experience, training, and knowledge to complete the job to your satisfaction. A reliable contractor will be able to provide you with a detailed estimate, references, and a portfolio of their previous work. Additionally, it's important to check their licensing and insurance to protect yourself from any liability. A professional contractor will also be able to answer any questions you may have and provide guidance on the best materials and design for your patio. With a little research and due diligence, you can find the right contractor to transform your outdoor space into a beautiful and functional oasis.
"If you're looking for the best paver patio installation in Long Island, then look no further than All Seasons Paving and Masonry. With years of experience in the industry, our team of expert craftsmen have the knowledge and skill to ensure that your patio is installed to the highest standards of quality and safety. Whether you're looking to enhance the look of your backyard or to create a functional space to entertain, All Seasons Paving and Masonry has the expertise and the eye for detail to make your paver patio a one-of-a-kind feature of your home."
All Seasons Paving and Masonry has been delivering quality Paver Patio Installation services to Long Island, New York for many years. Our team of highly qualified professionals is dedicated to delivering superior craftsmanship and superior results for each and every project. We take pride in being a trusted source for paver installation and masonry services, offering the best quality materials and the highest level of customer service. Our experienced staff will work with you to ensure that your patio installation is completed to the highest standards. We are proud to have earned the trust of our customers and our commitment to excellence shows in the exceptional results of every project. Whether you need a new patio installation or repairs to an existing one, we have the experience and knowledge necessary to deliver top
Things To Consider
All Seasons Paving and Masonry has a detailed series of steps when installing a paver patio. It's important to take the time to properly prepare the area and to plan the layout before beginning the installation. Some companies rush to "get the job done" but we take our time to "get the job done right."
Here are the typical steps we take to do this:
1. Choose the location for your patio. We consider the amount of sunlight the patio will receive, the direction of the prevailing winds, the grade of the area and the way the location impacts your lifestyle.
2. Measure the area to determine the dimensions of your patio.
3. Clear and prepare the area. Remove any existing vegetation or debris, and level the area with machinery.
4. Calculate the proper amount of sand and paver base you will need.
5. Install the paver base.
6. Install the pavers
7. Concrete the borders to prevent expansion.
Why Paver Patios
Paver patios have become increasingly popular over the years due to their ability to enhance a home's aesthetics, increase its value, and create lifelong memories for families. Paver patios are an excellent addition to any home as they add a touch of elegance and sophistication to any outdoor space. They come in various colors, shapes, and sizes, which can be customized to complement the overall look and feel of a home. Paver patios also increase a home's value by providing an extension of living space and enhancing its overall curb appeal. Additionally, families can create lifelong memories by using their paver patios to host outdoor gatherings, barbecues, and other social events. Overall, paver patios are a worthwhile investment that can provide numerous benefits for homeowners.
All Seasons Paving and Masonry is a top-rated paver patio installation company in Long Island, New York. With years of experience in the industry, we have honed our skills and expertise to provide exceptional services to our clients. Our team comprises highly skilled professionals who use state-of-the-art equipment and premium quality materials to deliver unique and customized paver patio designs. We place a premium on customer satisfaction and ensure that all projects are completed on time and within budget. Their reputation for excellence and attention to detail has earned them a loyal customer base and numerous positive reviews. All Seasons Paving and Masonry is undoubtedly a top choice for anyone looking for reliable and high-quality paver patio installation services.
The Value of Paver Patios
Paver patios have become increasingly popular in recent years due to their low maintenance requirements and long-lasting durability. Unlike traditional concrete patios that can crack and deteriorate over time, paver patios are designed to withstand harsh weather conditions and heavy foot traffic. They require very little maintenance beyond occasional sweeping and rinsing with a garden hose. Additionally, paver patios are a smart investment for homeowners, as they add value to the property and can even increase its resale price. With a wide variety of colors, shapes, and sizes available, paver patios offer endless design possibilities to enhance any outdoor living space.
All Seasons Paving and Masonry is a trusted provider of long lasting paver patio designs and installations in Long Island, New York. With years of experience in the industry, our team of skilled professionals are committed to delivering quality workmanship, using only the finest materials to ensure durability and longevity of their projects. From traditional to contemporary designs, we offer a wide array of options to suit the unique preferences of their clients. Our goal is to create outdoor spaces that not only look stunning but also enhance the value and functionality of our clients' properties. Contact All Seasons Paving and Masonry today to experience our exceptional service and expertise.
When it comes to finding a reliable and experienced company for paver patio installation, homeowners can trust All Seasons Paving and Masonry. With our team of experts, we can provide top-quality services that can transform the outdoor space of a home. Whether it's for a new installation or an upgrade, All Seasons Paving and Masonry can work with homeowners to create a beautiful, functional, and long-lasting paver patio that can add value and enjoyment to their property for years to come.